| | |
| --- | --- |
| | |
| 2" Square Bow Assembly | 2-1/4" Square Ground Stake |
SQUARE TUBE DESIGN
The WINDJAMMER SERIES 5000 structure incorporates square tubing into its ground stake and bow assemblies for added strength.
In our 30' wide and 35' wide greenhouses, we incorporate 2-1/4" square ground stakes (12 gauge) and 2" square bow assemblies (16 gauge).
An engineering analysis comparing Golden Pacific Structures' 2" square tube bow to a typical 1.90" round pipe reveals:
| | |
| --- | --- |
| 1.90" Round Pipe -14 Gauge | 2" Square Tube – 16 gauge |
| A = 0.4738 in2 | A = 0.5031 in2 |
| I = 0.1959 in4 | I = 0.2434 in4 |
| S = 0.2062 in3 | S = 0.2630 in3 |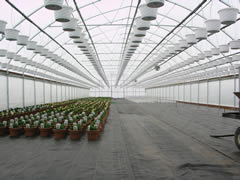 Based on the SECTION PROPERTIES alone, our 2" square tube is 27% stronger than the 1.90" round pipe.
Easy Guide Driving Tools
In so much as we recommend all ground stakes be set in a concrete filled footing we do offer, for those growers wishing to drive ground stakes into grade, a tool designed to keep the holder a safe distance from the sledge hammer. This tool also allows the holder to "square" the ground stake to the string line.
HIGH TUNNEL PERFORMANCE
The WINDJAMMER SERIES 5000 structures are designed with ultra tall side wall and peak height.
SIDE WALL OPTIONS
Cold Frames are provided with a 4' or, optional, 6 ' tall side wall. With the Golden Pacific Structures design, we don't even begin the bend before the 4' or 6' mark creating plenty of working and growing room.
PEAK HEIGHT
The WINDJAMMER SERIES 5000 structure is designed with extreme peak heights to maximize healthy growing environments.
GOTHIC ARCH PROFILE
We design each of our structures with a steep gothic arch profile as required for increased strength and to aid in snow/ice removal.
PURLIN DESIGNS
Golden Pacific Structures' purlins are secured to each bow with a heavy-duty clamp assembly. All bows are provided pre-marked to illustrate the location of the purlin on the bow.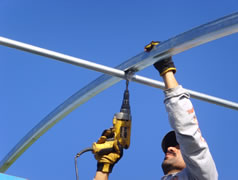 WIND BRACING
Most WINDJAMMER SERIES 5000 structures are provided with wind bracing kits. Wind bracing is key to maintaining structural integrity especially in high wind regions.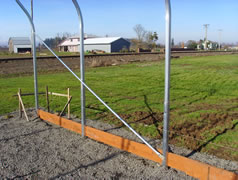 EASY INSTALLATION
With complete and comprehensive installation instructions, the WINDJAMMER SERIES 5000 Cold Frame is one of the easiest structures to erect. In addition, Golden Pacific Structures offers in house installation service support and can, if desired, line up qualified Building Contractors capable of completely installing the greenhouse structure along with all equipment necessary.